How to build a professional website from scratch in a few hours.
A website is like a house, sometimes the thought of the complexity involved in building it, makes people fear it. Then they spend exorbitant amounts of money for something they barely use! Even worse, sometimes, it's on a yearly fee! Those costs add up over time!
Those services aren't all bad, but do you really need them?
Making a simple site is not as complex as you think! Even if you are a small business!
Follow the following steps to setup your own wordpress website for only $7 a month, and you'll be done with most of the hard work within a few hours.
All links below open in a new tab, save or bookmark this page for your own future reference.
Step 1 – Choose a name
If it's a personal site, simply give it your own name, Like I did.
If it's a business site, I hope you have a name ready to go. if not you can use one of these name generators (but don't buy it from there!):
https://www.leandomainsearch.com/
http://www.bustaname.com/word_maker
https://www.1and1.com/domain-names
You can purchase a domain name along with the siteground hosting below, or get it from a cheaper source and later play around in the settings to point your domain to the host you settle on.
Step 2- Get the hosting
It's like the land on which you'll built this virtual house. It needs to be strong and in a good neighborhood.
There are soooo many options…
which is right for you as a freelancer, independent contractor, small business, or start up?…
Manged or un-managed,?
Are paid tools a waste of money?
Honestly this is where experience plays a role, If you know what you're doing you can use a handful of services to complete have your hosting up and running for only $6 per month. After experience with a few hosting services, I've found siteground's customer service to be the best, and many people have shared that perspective when you search for the reviews online.
That's why I choose siteground's hositing service. (Click on image and pick the middle option for $6)
Read this simple 3 step guide to buying the right hosting plan and you'll be done in 10 mins.
You can also choose bluehost by clicking on the image below: 
Once on the page, click on Hosting > Shared Hosting > Choose plus or prime for $6 per month. (it's at a good discount for you!) 
Step 3 – Domain name settings (This is the only complicated step) (you can skip this if you've bought the domain name and hosting from siteground.)
When you buy the domain name from other services like godaddy, you need to tell their system that your site is hosted on siteground (or a host of your choice)
You do this by going into the account where you bought the domain name, find the name you bought, and click on the option to MANAGE DNS settings, and change the ip address and name servers.
a. Access your new Control panel (cpanel).
You can access your cPanel from your User Area -> My Accounts tab -> Go to cPanel button. This will automatically log you in the cPanel of your account using an encrypted connection.
b. Note down the ip address and nameservers
On the godaddy (or other) account, Under manage DNS,
Edit "a" records (@)  and enter the ip address siteground gives you.
Edit Nameservers
inside the nameservers section, click on 'change >  nameserver type as custom > enter the nameservers you just copied from SiteGround in the provided spaces
(it takes upto 48 hours to propagate through the various systems)
This guide provides the walk through in detail with screenshots.
Step 4: Install wordpress (FOR FREE) on your host.
Regardless of which host you've chosen, everything after this is common on all hosts.
WordPress is the structure around which your website will be made, think of it as the foundations, raw material and structural strength inside the walls of a house.
And then follow this simple guide by siteground.
Step 4- Install a theme
Once wordpress is installed, it's similar to a newly built but, unfurnished and unpainted house.
To access your wordpress dashboard the link is:  yoursitename.com/wp-admin
So now you need to install a theme. There are many free themes you can use, and you can find plenty of the free ones right from the themes section in your wordpress dashboard.
However to really cast a good impression,  a premium theme helps you do that with ease, without coding, with tons of customization for even a non-coder like me.
My choice is Avada, because it makes life soo much easier for you. BECAUSE NO CODING IS REQUIRED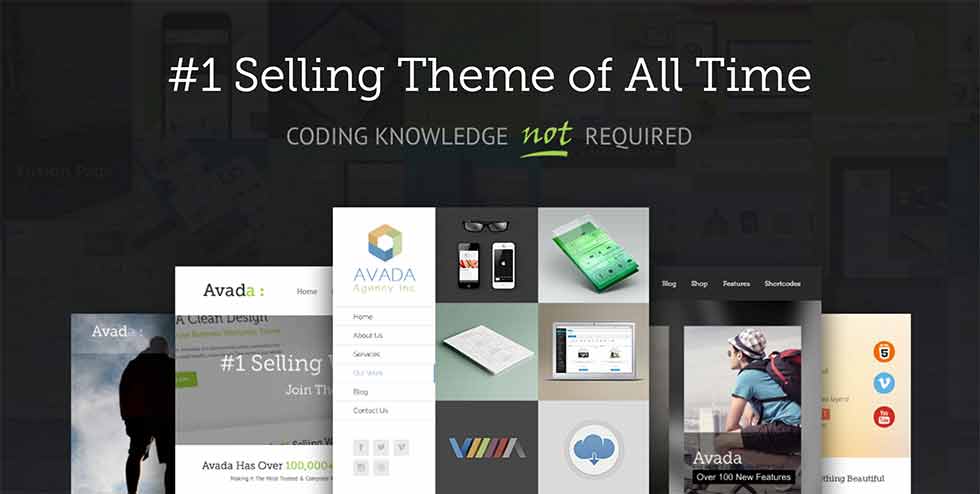 It comes with pre-loaded content, and various templates you can use, It also comes with a whole bunch of premium plugins to make any site look fabulous.
Check out the avada theme here, it's a one time cost of $60.
However, if you're not cool with a paid theme right now, here are three FREE alternatives, they don't need coding right out of the box, and still make a very good and simple website to impress people, but may need a little bit of custom coding here and there for custom changes and modifications.
There are many other free ones you can get online with a simple google search.
Step 5- Add Content
If a wordpress theme is like the wallpaper and flooring of the house, the content you have on the site, is the furniture.
Add a few pages – such as home page, contact me, blog.
Under the blog page, you can add multiple blog posts
Avada comes with the option to pre-load all the content and images from its demo variations as and when you want to, and you simply have to edit it out to add your flare of originality.
Check out the avada theme here, it's a one time cost of $60.
Step 7- Get your own professional email ID (a little complex but important):
For example, mine is [email protected] which gives a professional appeal, that's far better than a normal gmail id like [email protected]
Follow along to this simple video guide I made.
Here are the steps explained in the video to create the email ID and control it all from gmail (or yahoo)
a : Access cpanel > email accounts > Create a new email ID
b: Locate the id you just created > click on more options > "configure email client" page> take note of the settings
c: To send emails using your new id: Open gmail settings in a new window > go to accounts and import > send mail as> add a email account >enter settings you took note of in the previous step under outgoing server
d: The verification code will be sent to your newly created id > Click on more options (step b) > access webmail >Roundcube > open email > copy verification code > paste the code into the other window and click verfiy.
e:  To receive emails using your new id: Open gmail settings in a new window > go to accounts and import > check mail from other accounts> add a email account >enter settings you took note of in the previous step under incoming server
Step 6 – Contact me page.
People need to contact you, or sign up to your business, You can learn about creating a newsletter later, but right now, you need a contact page on your site and have to link it up.
The easiest way is through a plugin called contact form 7, It's very common, it's FREE and usually comes bundled in with most themes. Simply add your email Id in its settings once you install the plugin.
Go to plugins > Add New > contact form 7 > install /activate > settings.
It will seem intimidating, it's actually easy when you take your time and study the layout, and it becomes easier over-time.
That's it, You're done. You now have a website
with a little customization of content and images, you can show it off to anyone and grab their attention.
Warning: There are many services online, who promise free hosting and free names, only to lock you in for a price later on. Such services also have lackluster security and aren't well respected by the search engines, which means it's difficult to rank and susceptible to malware and viruses.
These are the Must have plugins and software for your website for added functionality and security! THEY ARE ALL FREE OF COST!
Updraft plus – Automatic scheduled site backups. (It saved me sooo many times!)
wordfence – Firewall and Malware protection and scanning.
Smush – Image compression to make sure the site loads fast.
Yoast SEO – Search Engine Optimization (SEO) for dummbies and newbies
CDNs such as cloudflare (free to install in the siteground cpanel)
FREE SSL certificate  – That secure little green lock you see near website names. (free to install in the siteground cpanel)
siteground optimizer – Makes the site load faster (if you've taken the site-ground hosting)
It would take you no longer than a relaxing day to get it setup.
Simply follow the instructions as the links above have provided, or contact me and let me do it for you.